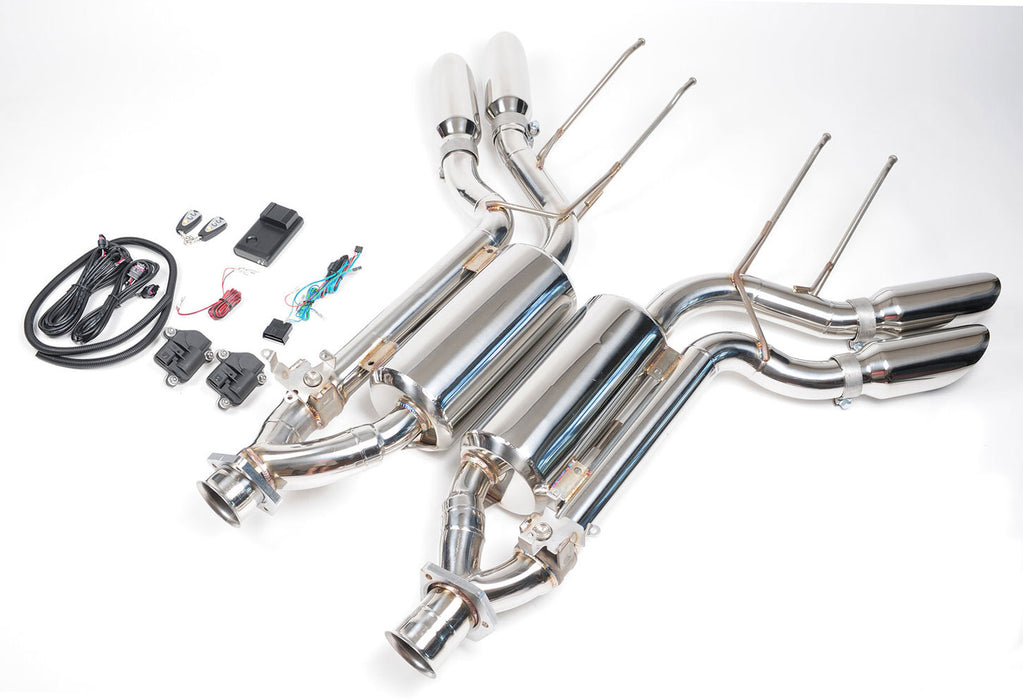 New Valvetronic Exhaust Package for the Mercedes W463 G500 G-Wagen (2012 - 2018)
Complete Exhaust Package for Mercedes-Benz G500 G-wagon from 2012 to  2018. Adapt the existing single exhaust of the G500 to this new Valvetronic Dual Exhaust System, by 463 Industries. This Valvetronic Exhaust System lets you choose the quiet Comfort Street sound, or the aggressive Track Racing sound profiles via remote control.
In order to utilize this new Valvetronic system on your 2012 - 2018 G500, the complete original exhaust system, from the OEM catalysts back needs to be removed and discarded first. Next, the installation of the G55/63  Exhaust Adapter Kit (included) is necessary. After installing the adapter kit, the installation of these new right and left mufflers is very easy, as they bolt-on directly to the prior fitted G55/63 Exhaust Adapters.
To support the new right and left Valvetronic mufflers, the original G500 rear support brackets need to be changed out with the new support brackets (VTS-7275 Support Bracket Kit - included). 
Unique sound acoustics and performance
Compatible with the Exhaust Adapter Kit VTS-7270 (included)
TIG Welded 304 Stainless Steel
Intelligent ECU exhaust control valve 
Dual Tips Style
Comfort/racing exhaust profiles
Perfect shape and fitment
Includes Wireless Remote Controls to open/close valves
Note: G500 and G550 will required x2 OE G63 Exhaust Hanger
G500 Valvetronic Exhaust Package includes:
Right and Left Valvetronic Muffler with Dual Tail Pipes
G55/63 Exhaust Adapter Kit (for both sides)
Support Bracket Kit 

for both sides)

Wireless Remote Control System